Why Labor Market Analysis Matters for CTE Programs
As school district leadership teams work to implement adequate and effective college, career, and military readiness (CCMR) and career and technical education (CTE) programs, it is important to consider local labor market conditions. A labor market analysis can surface information that can help district leadership have difficult conversations about priorities in CTE strategies, including phasing out or adding new CTE programs. Let's take a look at why labor market analysis is so important.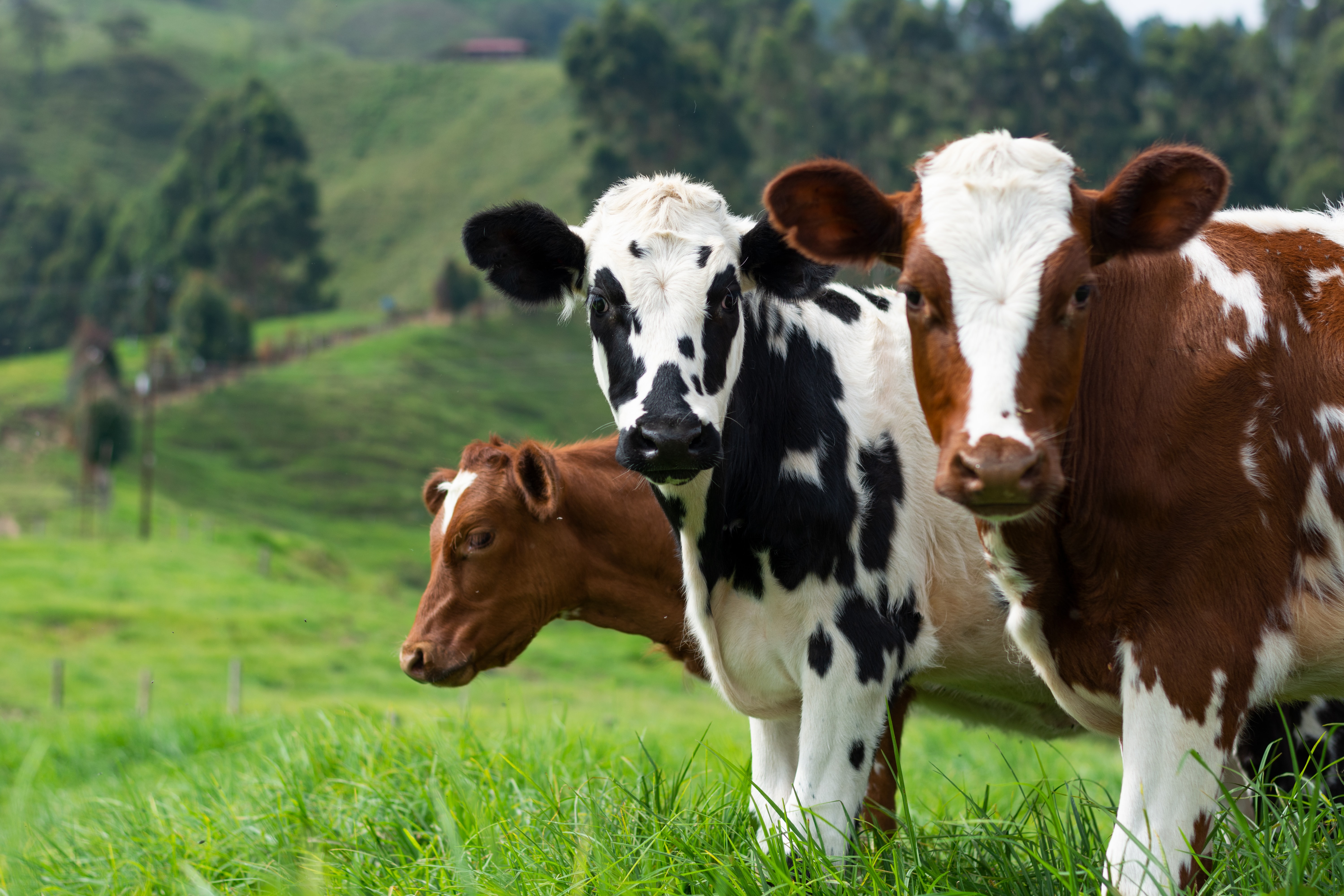 Photo by Daniel Quiceno M (Unsplash)
The Role of Labor Market Analysis in School Districts
Labor market analysis is the process of researching and analyzing job trends, wages, skills needs, educational qualifications, and more. This data helps school district administrators make informed decisions related to CTE programming and curriculum. It also allows district leaders to align their CTE offerings with the needs of the local labor market that their students will eventually enter after graduating from high school.
Labor market data provides insight into what type of job opportunities may be available after graduation—whether those are entry-level positions or higher paying jobs requiring additional training or certification—and how employers view the value of various credentials earned through CTE programs. This data can help administrators customize their CTE programming to ensure that students are prepared for postsecondary education and future employment in an ever-changing economic climate.
Additionally, aligning CTE programs of study to regional workforce conditions has been prioritized in state-funded grant opportunities and the work of the Texas Tri-Agency Initiative, which consists of representatives from the Texas Education Agency (TEA), the Texas Higher Education Coordinating Board (THECB), and the Texas Workforce Commission (TWC). Tri-Agency members have established a specific priority regarding establishing pathways for Texans to earn credentials and ultimately become employed in a high-skill, high-demand industry or occupation.
Using Labor Market Data Effectively
When performing labor market analysis it is important to consider both short-term and long-term trends. Short-term trends provide information on current job openings while long-term trends offer insight into potential industry growth or decline over time. It is also important to use multiple sources of data when conducting a labor market analysis, including government reports, employer surveys, and trade associations. With this data in hand district leaders are better able to make an educated decision as it pertains to program offerings in their schools as well as resources needed for successful implementation of those programs.
Conclusion and Considerations
Conducting a labor market analysis provides essential information for school district leadership making decisions about curriculum development and implementation for career and technical education programs. With access to quality labor market information, administrators can customize their CTE programming so that students graduate with skills necessary for success in college or a career path after high school graduation- setting them up for success in the long run!
Fitting all of the puzzle pieces together for your CTE programs is no easy feat. Being an employee in the public education space continues to be increasingly challenging. It's an all hands on deck situation, especially in small school districts. We understand that it can be a challenge to prioritize time spent on your CTE programs. CareerCraft can conduct a labor market analysis and CTE program audit for your school district and present findings to your district leadership. Reach out to learn more at info@careercraft.com.
Additional Insights: Case Study
When our Chief Program Officer, Shane Thomas, started work with CareerCraft over three years ago, he knew there was a need for districts to have access to current labor market conditions. Specific labor data is the starting point for ensuring that CTE programs are preparing students for high-demand and high-wage occupations. Together, Shane and Heather have developed a specialized labor market analysis and CTE audit service that CareerCraft offers to school districts.
The real magic of this work comes to light when we have the opportunity to sit down with school districts and share the information.
As part of this service, CareerCraft provides labor market and CTE Program alignment data to help districts strengthen their CTE offerings to students. Because we know school districts have finite resources and have considerations not captured in economic data, we also meet with district leadership to gather information about the local context. Then, we pull the economic data and develop reports by putting together the puzzle pieces from the labor market and insights/considerations surfaced during the school district interview.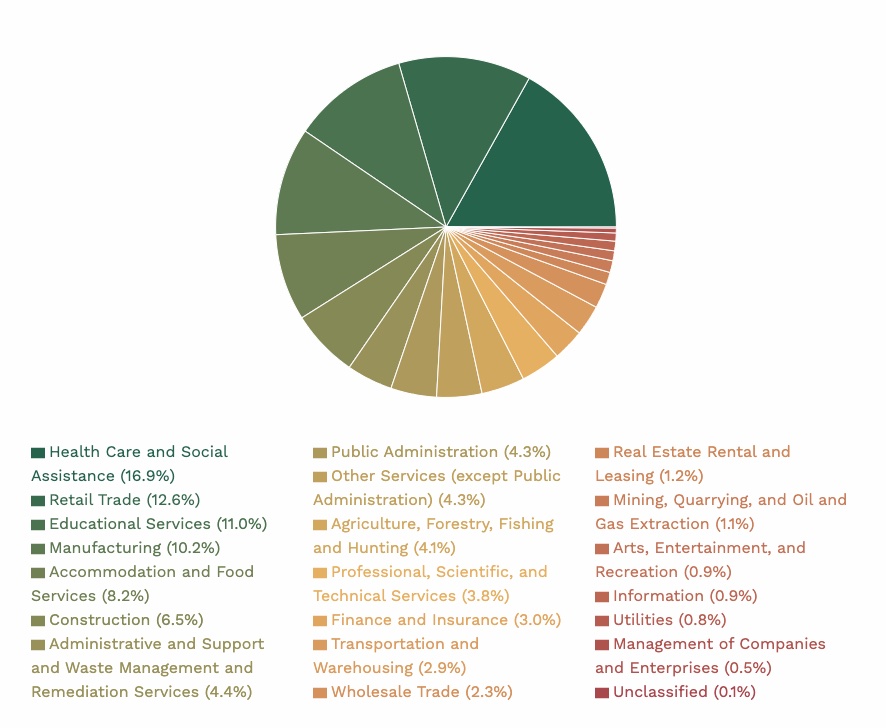 As part of our process, we typically recommend at least two programs of study that are not a part of the district's current CTE Programs. These recommendations are drawn from the labor market data and from conversations about staffing, building capacity, and local context with the school district. For example, in a rural school district the superintendent knew that Agriculture (specifically Animal Science) was an important offering not just to the students, but to the community. He also knew that many students were part of families that owned cattle and ran a business through the local farms. It would be important to ensure an agriculture-related CTE program was offered at the high school regardless of the labor market data. Using that insight in conjunction with the current and projected wages in the industry, CareerCraft recommended that this offer Agribusiness, which would prepare students for careers in both agriculture and entrepreneurship.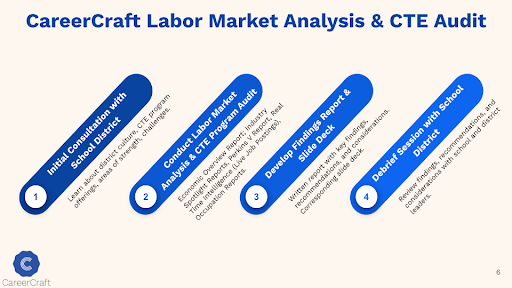 CareerCraft has helped many districts thoughtfully analyze and revamp their CTE programs based on labor market conditions and projections. Because of this work, some school districts are looking into retiring CTE programs that do not lead to high-wage, in-demand career opportunities and adding new programs such as engineering, software development, and health science.
Let us help your school district strengthen and align its CTE programs to the labor market. Contact us for more information at info@careercraft.com.
Testimonials
"All I can say is "WOW!!!!" These documents are AMAZING! I read through them a couple of days ago and used the information today for a meeting with administration and counselors. This information will definitely be shared with my department and will be used during our Advisory Board Meeting to lead the discussions that will be taking place. Thank you again for the information, it is truly appreciated!"
– Deborah Rabel, CTE Director at Mercedes ISD
"The data provided by CareerCraft regarding the labor force in our district's surrounding area has been instrumental in guiding Merkel's programs and funding. Understanding the demands of our workforce has allowed us to align our programs of study to industry needs and provide students an education that makes them marketable workers."
– Aimee Allen, CTE Director at Merkel ISD